In-Game Maps
PFS offers a variety of maps which provide unique gameplay and are the main environment where players attempt to win.
Here are all of the main PFS maps:
Avalanche
SkyCube
Jotanic
Farm
SkyForge
Sewers
Home
Mun
LavaCave
DoomedWalls
Snapville
Cruise
Submarine
Soccer
TikiVolcano
DieFasterIsland
MummyRuins
Flood
DantesPeak
CrystalCave
ClockBaws
Galleons
Hexagon
Toyland
CubeKingdom
Destroyer
Gladiators
Hillside
SnapExpress
Bop
Pinball
Splinky
Event Maps
Maps that are exclusive to events.
These maps last as long as the event goes.
Halloween Obby
Christmas Obby
Christmas Brawl
Halloween Hunt
Christmas Ball
Christmas Run
Special Maps
Maps that aren't really important to PFS gameplay but are still used for other reasons.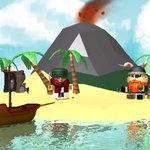 Lobby
Removed Maps
Maps that used to be playable during PFS.
Community content is available under
CC-BY-SA
unless otherwise noted.